Double-sided magnetic separator MSV PO
Double-sided magnetic separator MSV PO
This magnetic separator is the main type of the product line of double-sided separators with an automatic cleaning, suitable for a continuous (uninterrupted) material flow. It is designed for ferromagnetic particle separation with the size of up to 5 mm.
Send us your written request regarding separator quotation
More detailed information
Dimensional solution
Incoming and outgoing hole 250 x 250 mm (capacity 15-20 t/h), 400 x 400 mm (capacity 30-60 t/h) and 500 x 500 mm (capacity 60-150 t/h).
There are more factors influencing this magnetic separator capacity, e.g. material granularity, density, flow speed and height, loose parameters, etc.
Separation system
Material flows through the double system of a well-designed magnetic rod labyrinth, where the upper magnet row includes one magnetic rod less than the lower magnet row, installed in the upper row gaps. In case there is a respective customer requirement, we can manufacture this magnetic separator also with more magnet rows.
Automatic cleaning system
According to a time interval preset on the PLC, an automatic transfer of stainless steel covering pipes to the separator sides takes place (see the below animation), Demagnetizing takes place, and the metals caught fall off through the side outgoing gaps. Pipe transfer runs alternately, ones on the left and then on the right. Magnetic cores still remain in the same position (just stainless steel covering pipes move). Due to that, the separator may be used even in situations of the power supply or pressurized air supply malfunctions (the separation remains active). Using the electronic guarding, except the travel of magnetic pipes from one side to another, we also check whether all pipes have moved to the initial position on the left or right side; in case they did not, red warning light is on and the system reports a defect.
If there is a risk of penetration of larger impurities and maybe small lumps, we recommend installing a sieve before the magnetic separator. The sieve will prevent getting larger impurities in, and also another magnetic separator may be used. In order to provide the functionality visual inspection, there are two transparent inspection holes within the separator length.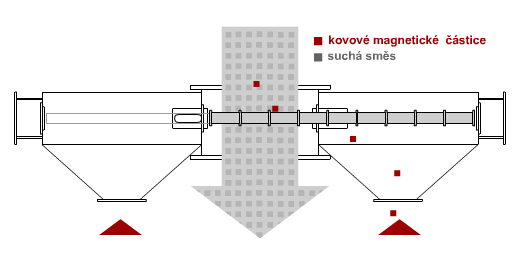 Connecting requirements
Power supply connection 230 V
Pressurized air (6 bar is required permanently) – pressurized air supply is constant (with this magnetic separator type, pressure loss of ca 1.5 bar must be taken into account for one cleaning cycle). In case the pressure supply is insufficient (below 4 bar), magnetic separator will not provide its automatic cleaning function, and the device will be put out of the operation. The maximum air operating pressure must not exceed 7 bar!
Separator safety and quality information
We care about the high quality of our magnetic separators
Inspection hole
Above the magnetic separator (i.e. its central part through which materials are poured), an inspection hole must be made in the pipeline, for a case that a larger metal object is caught on the magnets that could prevent pipe movement, so it would need to be removed manually. This inspection hole, including the drawing-apart rack, may be supplied with the magnetic separator, as an optional variant.
Material flow
We do not recommend installing the magnetic separator below a weighing machine (there occurs a discontinuous material pouring, resulting into putting the magnetic separator out of operation – the pipe becomes clogged).
A material falling down to the magnetic separator (magnetic pipe) area, must fall equally onto the entire incoming hole area (Fig. B) – the material may never pour just from one side (Fig. A). This might cause magnetic separator clogging and putting out of the operation.
Atex (explosive environment)
The general, initial magnetic separator design is not meant for the device using in explosive environments, according to ATEX (by a customer request, we are able to adapt the device in a way that it can be used also in such environments).
ATEX version is designed for the zones 21 and 22, and it is supplied incl. the certificate. Controlling stand must be installed / situated always out of the zone with a risk of explosion  (ATEX).
Magnetic separator with automatic cleaning – the benefits:
High separation efficiency due to a sophisticated, well-proven dropping labyrinth
Variability in a selection of the magnetic induction on 6 levels according to the separation requirements and task
Metal impurity separation starting since one micron
Without a need for operators (time and cost saving, manufacturing process automation)
Controlling system flexibility as for language versions per customer requests
Cleaning cycle adjustment using a programmable PLC Siemens disposing of a color touchscreen
PLC is guarding travels of the pipes to their final positions, sufficient air pressure levels, it also enables a manual, step-like pipe movement (e.g. because of service actions), statistics – (number of the cleaning cycles, number of defects during pipe traveling, number of the air pressure defects,…)
Minimum clean material losses, minimum power and medium consumption needs
Variability in possibilities of remote administration connecting (GSM module), and the device controlling from a customer central controlling system
Easy connecting to a piping system using flanges and/or transition elements
Possibility of the device designing also for explosive environments (ATEX), including appropriate certifications
For a continuous operation – material flow does not have to be interrupted during the cleaning process
Own service department
Summary of requirements important for a proper separator functioning
Material must be perfectly dry
Without any small lumps
Metal particle size may not exceed 5 x 5 mm (a ball with the diameter of 5 mm)
Continuous material pouring must be provided
Material must be poured equally into the magnetic separator area, distributed evenly within whole functional area
Remote administration
Possibility of a remote control of the separators with an automatic cleaning capability – developed by the company MAGSY
Access from any place, using a web interface – provided by a unique accessing password
In a future: possibility of remote changing of separate parameters (e.g. cleaning interval length)
Online statistics of the number of cleaning cycles, air pressure, etc.
Guarding of the servicing intervals and spare part wear and tear
You can perform all of these activities by yourself – or they can be done for you by MAGSY, as outsourced acts
Separator status is being sent every minute
No excessive customer work is needed (mobile network, etc.)
Webpage: separator status + statistics
E-mails in case of a failure or unavailability
Regular e-mails (weekly reports)
Remote separator administration
A complete device includes
Magnetic separator with an automatic cleaning
FESTO pneumatic components
PLC Siemens (cleaning interval setting of 1 min – 90 min, manual mode possibility, cleaning test, statistics) – it may be supplied also without the controlling PLC system (customer may connect the magnetic separator to their PLC using a language code supplied)
Rittal distributor
Interconnection between PLC and magnetic separator using a connector (simple disconnecting option)
External control using potential-less contacts (a possibility of the device connecting to the customer central counter, using the start / stop / test / failure resetting connector – separator actual status). This enables to get a complete picture of the device status; customer central system setting – the separator may be delivered with the Profinet system
Electrical and pneumatic distributors are standardly attached to a wall (with an option to be supplied on a stand)
The length of aerial and shadowed communication electrical cables is 3 m
Customer servicing phone support line is operating in the 24/7 mode
Type of the magnets, magnetic parameters
Temperature resistance of the magnets
General option is up to 80 °C, by request also the variant with the resistance of up to 120 °C can be manufactured
Separator material characteristics
Stainless steel 1.4301 /AISI 304/
Ask us – we will advise you!
Made-to-measure production is our strength.